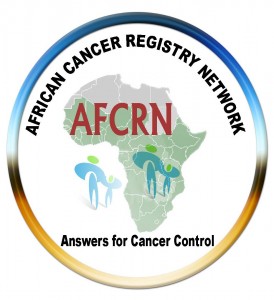 The African Cancer Registry Network (AFCRN) was formally inaugurated on 1st March, 2012, and succeeded and expanded the activities of the East African Cancer Registry Network(EARN), which had been established in January 2011.
AFCRN aims improve the effectiveness of cancer surveillance in sub Saharan Africa by providing expert evaluation of current problems and technical support to remedy identified barriers, with long-term goals of strengthening health systems and creating research platforms for the identification of problems, priorities, and targets for intervention. Support to AFCRN is a recognition of the increasing burden of non-communicable diseases, and especially cancer, in the continent, and the need for adequate surveillance as a fundamental part of any rational programme for cancer control.
In September 2012, the International Agency for Research on Cancer (IARC), in the framework of its Global Initiative for Cancer Registry Development in Low- and Middle-Income Countries (GICR), partnered with AFCRN to provide a network Regional Hub for cancer registration in Sub-Saharan Africa.
The role of a regional hub is in:
providing technical and scientific support to countries;
delivering tailored training in population-based cancer registration and use of data;
advocating the cause of cancer registration in the region and facilitating setting up associations and networks of cancer registries; and
coordinating international research projects and disseminating findings